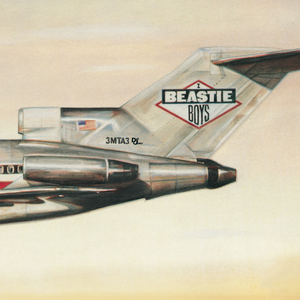 Album: Licensed to Ill
Artist: Beastie Boys
Release Date:
Album Tracks:
Licensed to Ill is the debut album by the Beastie Boys, released in 1986. It is the first rap LP to top the Billboard 200 chart. It also peaked at #2 on the Top Hip Hop/R&B Albums chart. It is Columbia Records' fastest selling debut record to date and sold over five million copies. Background Produced by Rick Rubin & Beastie Boys Kerry King of Slayer made an appearance on the album playing lead guitar on "No Sleep 'Till Brooklyn", and appeared in the music video, which is a parody of glam metal. The name of the song itself is a spoof on Motörhead's No Sleep 'til Hammersmith album. King's appearance on the track came about because Rick Rubin was producing both bands simultaneously (Slayer's Reign in Blood was originally released on Def Jam). The full album cover, front to back, features a Boeing 727 — with "Beastie Boys" emblazoned on the tail — crashing head-on into the side of a mountain. The tail of the plane has the Def Jam logo and the legend '3MTA3' which spells 'EATME' when viewed in a mirror. The original title for this album was Don't Be a Faggot but Columbia Records flatly refused to release the album with this title and pressured Russell Simmons (their manager and label Def Jam head) into having the Beastie Boys to come up with another name. Adam Horovitz has since apologized for the band's earlier title. Music videos were made for the songs "Fight for Your Right", "No Sleep Til Brooklyn", "Hold It Now, Hit It", "Rhymin' and Stealin'" and "She's Crafty". Reception In 1998, the album was selected as one of The Source's 100 Best Rap Albums. In 2003, the album was ranked number 217 on Rolling Stone magazine's list of the 500 greatest albums of all time. Vibe (12/99, p.158) - Included in Vibe's 100 Essential Albums of the 20th Century. Q magazine (9/94, p.123) - 4 Stars - "Licensed to Ill remains the world's only punk rock rap album, arguably superior to Never Mind the Bollocks...knowing that apathy and slovenliness were just around the corner." Melody Maker (7/22/95, p.35) - Bloody Essential - "There's lots of self-reverential bragging, more tenuous rhymes than are usually permitted by law and, most importantly of all, an unshakably glorious celebration of being alive....A surprisingly enduring classic." User-contributed text is available under the Creative Commons By-SA License; additional terms may apply.