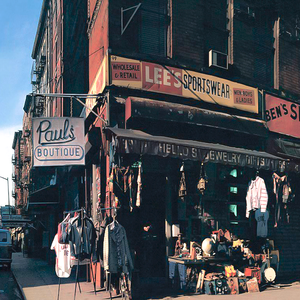 Album: Paul's Boutique
Artist: Beastie Boys
Release Date:
Album Tracks:
Paul's Boutique is the second studio album by American hip hop group Beastie Boys, released on July 25, 1989 on Capitol Records. Featuring production by the Dust Brothers, the recording sessions for the album took place at Mario G's Studio in Los Angeles and The Opium Den in Brooklyn, New York from 1988 to 1989, after which the recordings underwent mixing at the Manhattan-based Record Plant Studios. Paul's Boutique was initially considered a commercial failure by the executives at Capitol Records, as its sales did not match that of the group's previous record, Licensed to Ill, and the label eventually decided to stop promoting the album. The album's popularity continued to grow, however, and it has even been touted as a breakthrough achievement for the Beastie Boys. Highly varied lyrically and sonically, Paul's Boutique secured the Beastie Boys' place as critical favorites in the hip-hop genre, and has been widely recognized as the group's magnum opus. The album's rankings near the top of many publications' "best albums" lists in disparate genres has given Paul's Boutique critical recognition as a landmark album in hip hop. On January 27, 1999, Paul's Boutique was certified double platinum in sales by the Recording Industry Association of America. In 2003, the album was ranked number 156 on Rolling Stone magazine's list of the 500 greatest albums of all time. The album was re-released in a 20th anniversary package featuring 24-bit remaster audio and a commentary track on January 27, 2009 User-contributed text is available under the Creative Commons By-SA License; additional terms may apply.